A shooting survivor shows others how scuba diving changed his life
Scuba diving is an exercise in facing fear, and this underwater sport will test anyone's limits.
For Farhan "Ronny" Ahmed, adaptive scuba has been a building block on his path to less pain and more success in life.
In 2014, Ahmed was shot twice and paralyzed during a mass-shooting on the Florida State University campus in Tallahassee, Fla. The first bullet paralyzed Ahmed from the waist down. The second collapsed his lung, broke two of his ribs and damaged nerves in his right hand, just missing his heart.
He struggled to adjust to his new life. But Ahmed says meeting certified Handicapped Scuba Association (HSA) instructor Gabrielle K. Gabrielli, PhD, while recovering in the neuro-ICU at Tallahassee Memorial Hospital in Florida, is how his new life started to take shape. Gabrielli helped Ahmed see he still had opportunities.
"I knew he liked the outdoors," Gabrielli says. "When he asked me if he would be able to dive with paralysis, I told him that he would become just as good or better than non-disabled divers. We spent several months working on the basic skills for open water scuba, though it was apparent from his first pool session he was a natural."
Diving Experience
Since then, Ahmed has received scholarships from Gabrielli's nonprofit, Life Worth Leading, for advanced training, including nitrox and enriched air diving, Diving Rescue and Accident Management (DRAM), CPR, first aid, emergency oxygen provider, neurological assessment and underwater archeology.
He has scuba dived in the Gulf of Mexico, Atlantic Ocean, at the Epcot Aquarium and is currently working to complete the most prestigious certification in the industry, which will make him the first Scuba Educators International (SEI) divemaster with paraplegia.
"I have around 70 dives logged," Ahmed says. "My deepest dive was 120 feet."
Ahmed uses a seated lift from his wheelchair to enter and exit the water. He wears webbed gloves, which help him move more freely and propel himself with his arms. And thanks to diving, he says his posture has improved significantly.
Besides improving some physical aspects, scuba diving has also helped Ahmed mentally. His trauma and fear have reduced.
"It's the same with skydiving," Ahmed says. "Fear keeps people from trying it. They think of everything that could go wrong. What they don't know is that a good teacher makes a difference, and conquering a fear of deep water or seeing wildlife up close leads to other benefits."
Gabrielli understands the mental aspect of recovery from trauma, having served as a first responder at ground zero in New York City in 2001. That's just as important as the physical benefits.
"Once you are diving, physical limitations disappear," she says. "It is like hyperbaric chamber therapy but a lot more fun."
Gabrielli credits the HSA for being the first scuba industry organization to develop a comprehensive safety program for the disability community. Gabrielli says the buddy system is critical with scuba diving. HSA bases students' proficiencies on their abilities to assist another diver in the water. For example, a Level A diver dives with one person; a Level B diver must dive with two buddies.
"Panic affects people differently," Ahmed says. "Basic first aid is the most important skill covered in DRAM class. I didn't know what was hit inside of me [when I was shot], but I knew time was important and to stay aware of my surroundings."
Both Ahmed and Gabrielli say preparedness for unexpected events is a factor in diving.
"The calmer someone is, the better they will respond," Ahmed says.
Improving His Life
Ahmed feels there are countless ways to influence others with diving.
"Scuba got me active, but more importantly, interacting with people," Ahmed says. "I have worked with the Boy Scouts of America, various veterans and the Florida Disabled Outdoors Association through Life Worth Leading. The boost in confidence people experience in scuba can't be matched."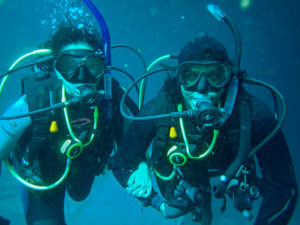 Between events and scholarships, over 600 individuals have benefited from the nonprofit. On Sept. 26, Ahmed will join 24 divers to dive with whale sharks in the Georgia Aquarium in Atlanta.
"Ronny's demeanor when diving is always positive," Gabrielli says. "He doesn't let anything hold him back from being brave. I teach adaptive diving because a lot of people need opportunities to grow and be supported, and while our mission is deeper than just diving, it is the physical activity that ultimately shows them what is possible."
Ahmed understands that now.
"It's also a reminder to me that while I've lost the use of a lot of my body, there is still a lot I can use," he says. "I try to appreciate that even though I only have one fully functioning limb, I feel superhuman and capable underwater. To teach this experience to others means making the world a better place one person at a time."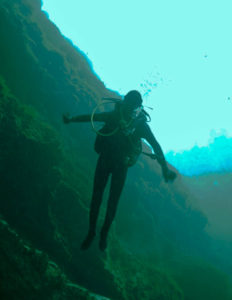 To learn more about Life Worth Leading, visit http://scubawithgabrielle.com. Additionally, the Buck's Scholarship benefits two veterans with disabilities every year. General adaptive diving information can be found at https://www.hsascuba.com.