A mother and daughter share their perspectives on life with a spinal-cord injury throughout the years
Online Exclusive posted Friday, May 11, 2018 – 8:44am
By Cindy and Beth Kolbe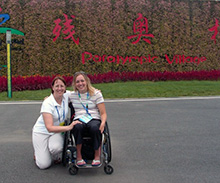 Mother's Day 2001
Beth: Accepting my new disability never was a real issue for me. The issue was what needed to be done next. I have a C6-7 spinal cord injury from a car accident in May of 2000 when I was fourteen. It is motor complete, but I have some feeling.  The first weeks after my injury are a bit of a blur, but I remember my family always being there and I remember not being afraid or worried. It really has been a team effort.
Cindy: My daughter Beth led the way after her injury. We became a team. I put on an encouraging face while I mourned her losses. An avid reader, Beth could hardly hold a book. Turning pages was impossible. We put a fat tube around a pencil and she used the eraser end to turn a page. That worked until weeks later when she patiently figured out how to use her hands to accomplish the same job. She repeated the process for so many other things as she learned how to use her hands for fine motor tasks — without finger function. In the rehab hospital, Beth and I took turns reading aloud from the brand-new Goblet of Fire, the fourth Harry Potter book. We loved the series and looked forward to those evenings.
Mother's Day 2002
Beth: When I was injured, I really had no idea what was in store for me. I began water therapy as part of my physical therapy and immediately loved the water and the freedom I had in it. No one expected me, a quad, to ever move in the water without someone holding me up. Eventually, I started doing the backstroke. Then, learning to swim on my stomach and still breathe was a big challenge initially. I really didn't expect to ever be able to compete, so that surprised me.
Cindy: We lived in a small town in Ohio. After water therapy ended, Beth asked to go to the local YMCA where she would float slowly on her back across the pool with her arms waving underwater. She met a Paralympic coach at her first wheelchair games, and a month later we boarded our first flight of many with her manual wheelchair. She was classified as an S3 swimmer in Seattle at her first national meet. Paralympic swim meets across the country highlighted our calendar, along with the release dates of new Harry Potter books and movies. Beth and her best friends grew up with Harry, all meeting new challenges every year.
Mother's Day 2008
Beth: I tried to see how far I could go, and I continually tried to do more on my own. It took a little over four years to be completely independent. My swimming improved, too.
I earned a spot-on Team USA for the 2004 Athens Paralympics but had to decline to start Harvard on time. In 2006, I was very honored to serve as captain for the women's team for Parapan America Games in Brazil, with 1 gold, 2 silver and 1 bronze. Rio was an absolutely amazing experience. After that, I decided nothing would stop me from the 2008 Paralympics. My mom cheered me on.
Cindy: Since her injury, Beth seemed to attract serendipity. She swam for three years on the Harvard Women's Swimming and Diving team, the first with a physical disability. She competed on the US Paralympic National Team for five years, and made the team for the Beijing Paralympics, taking place in September of 2008.
As a freshman at Harvard, Beth ate meals at Annenberg that resembled the grand dining hall at Hogwarts in the Harry Potter books. J.K. Rowling, the author, was the speaker at Beth's Harvard graduation.
Mother's Day 2018
Beth: In the past, I described myself as a swimmer, but since I competed in Beijing in 2008 – an amazing experience – my swimming has taken a backseat to my law studies and career. Nonetheless, I still love swimming and fit it in when I can!
I have always identified first as a person with a disability, focusing on my independence and my mentoring and engagement in the disability community, which I am very proud to be a part of. I live in Washington, DC, and work as a healthcare policy lawyer with a strong pro bono practice in disability-related issues. I also continue to mentor young women with spinal injuries and stay involved in disability organizations. I am on the Board of AbleThrive, an incredible nonprofit run by my friend Brittany Martin. It creates and shares content to help people with disabilities thrive (ablethrive.com). I love traveling with my fiancé, trying out new restaurants in DC, cooking, and wine.
My mom was such a big part of my high school and then college experience. Obviously, we see each other less now, but I still feel like we're teammates in some ways. It's always kept us very close.
Cindy: Almost 18 years after the car accident, my husband and I met Beth and her fiancé in Orlando at Harry Potter World in Universal. Together, we explored Diagon Alley for the first time and loved every moment! Over butterbeer at the Leaky Cauldron, Beth and I agreed: we had come a long way since those evenings at the rehab hospital after her injury, reading Harry Potter and wondering what the future would hold.
Beth: My mom's strength and commitment to others is something I always try to emulate. There are truly so many strong women in my life – from my grandmothers – one of whom played Ohio State U. sports in the 1940's, and the other who raised a child with down syndrome with love in a time before there were many supports – to my sister who is a passionate special ed teacher – to my fierce female friends who are athletes, lawyers, and activists.
Happy Mother's Day!
More of their story at: strugglingwithserendipity.com