Collegiate players swing into spring championships and break a record for attendance
University of Alabama student-athletes came swinging into the United States Tennis Association's (USTA) long-anticipated 20th anniversary celebration of the Collegiate Wheelchair Tennis National Championships and were confident they could defend four consecutive team titles (six in program history).
They got it done in a 3-0 final match against a brand new bunch of players and nationals newcomers from the University of Michigan.
Playing in four days of matches April 15-18 at the USTA's National Campus in Orlando, Fla., were a record-breaking 27 athletes from the University of Arizona, San Diego State University, Auburn University, Clemson University, the University of Alabama-Huntsville, Biola University from Southern California and University of Colorado.
Michigan's Director of Adaptive Sports and Fitness Oluwaferanmi O. Okanlami, MD, MS, said besides making it to the finals, a highlight for him was connecting with Brent Hardin, MD, who has been at Alabama since 2003 and is the founder of its adapted athletics program.
"We are new, but we try to help each other out as we grow," said Okanlami, who was an All-American athlete at Stanford University before sustaining a spinal-cord injury in medical school and was also a Tier 3 competitor in individual finals at the national championships. "Each school has its own structure, but an event like this gives us an opportunity to share what works."
Getting teams together and collectively setting standards for collegiate departments to level athletic playing fields for competitive, differently abled students is the point, said USTA's National Manager for Wheelchair Player and Coach Development Jason Harnett, especially since more than 60 programs were cut during the novel coronavirus (COVID-19) pandemic. It's also a result of five years of momentum from within the national governing body (NGB).
"The collegiate space is a critical one for tennis," said Harnett. "Fully integrating our wheelchair tennis program into other NGB activities energizes people, and it makes everybody push each other to get on board."
USTA also launched its new co-ed eligibility guidelines this year. Individual play is a three-tiered system that consists of the best of one doubles and two singles matches.
Needing A Win
Leading off day one in Orlando, the Crimson Tide went 6-0, with a win over Clemson and earned three singles victories. Michigan's Spencer Heslop began a series of stellar wins that continued throughout the tournament, and his teammate, Christopher Kelley, joined him in team matches against Biola (3-0).
On Day 2, Clemson's Marsden Miller and Jeff Townsend both fought Alabama but couldn't take down the Tide.
"Playing top seeds in our opening matches was tough, but well worth it for the challenge and growth," said Clemson coach Chuck McCuen.
Helsop also forced a tiebreaker with 6-2, 6-3 wins, and Kelley dominated, taking a match against San Diego State (6-7, [7-3], 6-2, 10-7).
Day 3 was not much different, as Helsop returned in a showdown to advance (7-6, [7-4], 6-1) to a Tier 2 championship against Townsend, and Thomas Venos (Alabama) secured his Tier 1 slot against Jason Keatseangsilp (Arizona).
Finally, Okanlami also put forward 6-1, 7-6, [7-5], shutting down singles semi-finals, and in team semis, Alabama won a battle against third-seeded Arizona, 2-1, to earn its spot to play Michigan.
In the finals, the Tide won all three matches over Michigan. The University of Arizona also had a strong showing and finished third in team competition against San Diego State University, and Clemson took its doubles matches against Alabama-Huntsville.
The championships came to a close with the individual competition. Venos was named the Tier 1 singles champion after defeating Keatseangsilp, 3-6, 6-4, [11-9]. Owen Anketell (Arizona) led in the Tier 3 singles title over Okanlami with a final score of 6-2, 6-7 (5), [12-10].
Higher Performance
Auburn finished team competition in sixth place, but playing this year was a return to the roots of Auburn Adapted Athletics. The program started 12 years ago, but after adding wheelchair basketball, tennis faded out. Its team only practiced for three weeks before heading to nationals.
Robb Taylor is the head wheelchair basketball and tennis coach at Auburn, after a conversation with Harnett gave him tennis fever.
"Since this was our first time at nationals in 10 years, we hope it is the beginning of bringing back our tennis team," Taylor said.
Playing for Auburn were two freshman, Joe Rafter and Jack Pierre. Pierre finished C Tier in fourth, and Rafter finished in ninth place.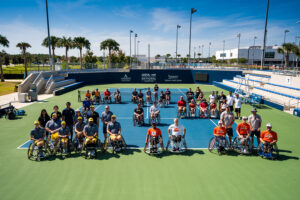 "I learned how to compete against the best collegiate players, in this great environment," Rafter said.
In the long-term, Harnett hopes this year's nationals will serve to inspire alumni and World Team Cup players to join the adaptive movement. He wants its legacy to be steering adaptive athletes towards higher education.
For Michigan, coming to nationals at the USTA campus means taking their near-win and making a wheel print back home.
"Incorporating wheelchair programs into their college experience for student-athletes is how we train elite-level athletes," Okanlami said. "Tennis just happens to be ahead of the game."
For more results, visit: https://www.facebook.com/USTACollegiateWheelchairTennis/ or to find a USTA program: https://www.usta.com.